Live Webcams with Animals in Namibia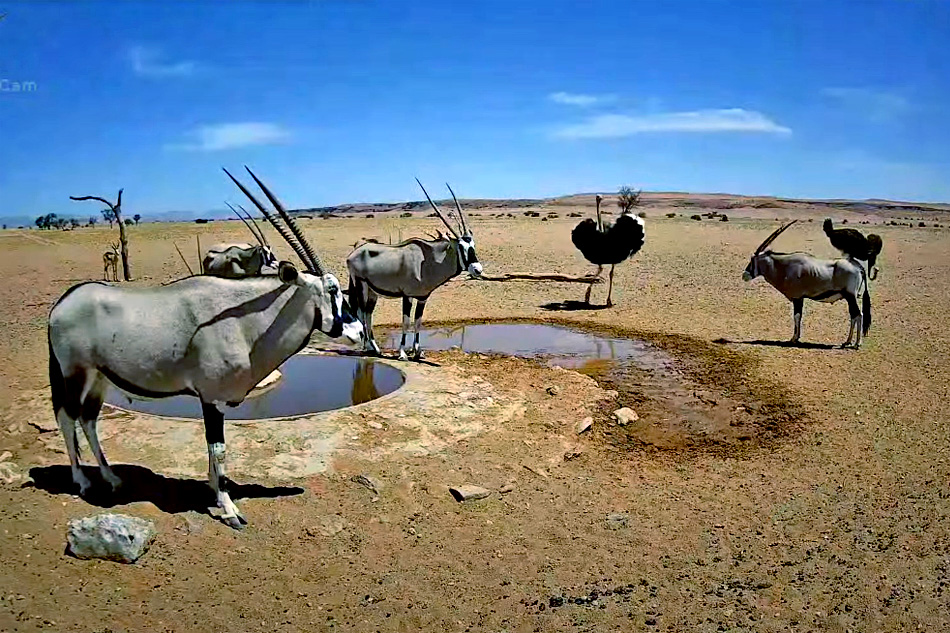 Location: Namib Desert Lodge, Gondwana Namib Park, Namibia
Source: www.gondwana.com
Info: The only Live webcam in Namibia featuring wildlife at a waterhole in the Namib desert. The best time to watch this waterhole is early morning, late afternoon and early evening. There are Oryx, Zebra, Wildebeest, cheetah, Foxes, jackals and birds visiting this waterhole.

Namibia has many national parks, reserves and conservancies. Probably the most famous is Etosha National Park with huge herds of Springbok, Gemsbok, Zebra, and Blue Wildebeest, as well as smaller numbers of Red Hartebeest, Mountain Zebra, lion, cheetah and the elusive leopard. Also present are desert animals including oryx, meerkat, ostrich and bat-eared foxes. Found only here and in Angola are the black-faced impala and damara dik-dik. In the rugged mountains of Damaraland, there are free-roaming populations of the incredibly rare desert elephant. The north-eastern Zambezi Region has water based wildlife with hippos, crocs and buffalo and the the Skeleton Coast National Park has one of the world's biggest breeding colonies of Cape fur seals.